Via Scoop.it – Today's Transmedia Woman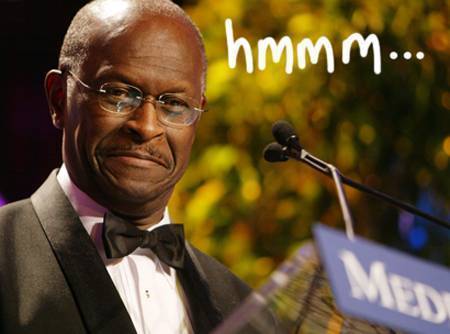 Wouldn't you love to be a fly on the wall Friday when Herman Cain meets with his wife for the first time since allegations surfaced of a 13-year affair? "Since I've been campaigning all week, I haven't had an opportunity to sit down with her and walk through this with my wife and my family. I will do that when I get back home on Friday," Cain told reporters gathered at his New Hampshire campaign headquarters Wednesday night.
He's plotting an aggressive campaign schedule across several states, but Cain has begun to outline a possible exit strategy from the race for the Republican presidential nomination.   The allegation first surfaced on Monday, and says he has only spoken to his wife by phone. Cain, a top-tier candidate just weeks ago, says he'll decide in the next "few days" whether to abandon his White House bid, but not before he meets — in person — with his wife.   Many Republican operatives believe Cain's bid is over whether he pulls the plug or not. His fundraising and public image may be damaged beyond repair.
WCNTV Commentary: Wow I heard that Steve Harvey broke down the word AFFAIR yesterday on his radio program. I heard this second hand so let me see if I can get this right. Lets take the word AFFAIR which I am sure Steve knows a bit about given his troubles with his ex. First you have the letter "A" then the first "F" is for Friend, the Second "F" Stands for ____________Fillin the Blank. (while he was on radio and not Satellite Radio plus Steve is a Christian now he lets you fill in the blank. then there is 'IR" suggesting that without the two "Fs" you have "AIR".
Seriously though can you hear him trying to explain. You see Honey, What had happen was…………..Well I hope he is bringing his Secret Service Protection Team in advance of his return home. Still SNL will have a field day with this one. Mike Tyson may get another shot at this one. I can see him saying to his security detail. Remove all the Sharp Objects please. And God can you imagine Chris Rock doing a routine on this one. What a catch 22. Maybe he was just being Pastor Cain and was providing some Southern Comfort to a "FRIEND" WINK WINK.
Ol Boy is in trouble and the Republicans who should have had a Come to Jesus Meeting with this guy long ago must have decided to give up on this election cycle.   Mitt may not be fit. Newt is a hoot and Paul, Huntsman and Rick Santorum are boring. And since this is Today's Transmedia Woman, What should Michelle Bachmann, the only woman in the race do to get the respect a candidate should expect. Who would you trust with your Kids Future. I bet Sarah Palin who has been relatively quiet might be saying Damn I should have run. That is all that is missing from this Side Show.
And while we should all be very concerned about the real issues. You cannot help watching this Train Wreck and the desire to be a Fly on the Wall at Hermann's to take notes on how he can get out of this one.   And if the next news conference Brother man shows up with a Black Eye and a few missing teeth we will know that there is no Fury like a Women Scorned. And no amount of Secret Service can protect a man against a Black Women who has been asked to believe that we were just friends and I was doing a noble thing to help her pay her rent with no strings attached.   And while we all would like to see some evidence. Which at this point will come out sooner or later whether he steps down or not given Herman's own policies and positions in his Clarence Thomas World that he has created.   Maybe a Uncle Ruckus Boondocks episode is coming for sure if not already in production. This must be a comedy writers dream come true. @wcntv
Via nj1015.com